Termine
Hallo Fans und Rockfreunde!
Hier die ersten Livetermine für 2017
.
.
21. Juli 2017 – Rock am Camp 1
2. August 2017 – Rock am Camp 2
5. August 2017 – Seefest Mondsee
1. September 2017 – Camping Arneitz
4. September 2017 – Camping Arneitz
25. November 2017 – Berger Partl Perchtenparty
---
Am Freitag den 18.11. 2016 wird es höllisch heiß in in Salzburg am Karkogel in Abtenau!
Wir, The Coverband Strongbow rocken das Krampuskränzchen der Superlative!
Alle Infos zum Krampuskränzchen in Abtenau findet Ihr  H I E R !!!
---
Die Freiwillige Feuerwehr Lammersdorf veranstaltet am Freitag den 22.07.2016 ab 19.00 Uhr bereits zum 5. mal "Rock im Garten" bei dem "The Coverband Strongbow" schon ein fast fixer Bestandteil und verlässlicher Partner ist. Als Vorgruppe rockt heuer die Band "Dudes oft the Devil"!  Beide Bands garantieren Stimmung und die Möglichkeit richtig abzurocken.
Am Samstag 23.07.2016 findet das traditionelle Gartenfest statt, dabei stehen die Unterhaltung für Jung und Alt im Vordergrund. Für die Musikalische Umrahmung sorgen die Jungen Mölltaler, für die Kinder sind Spiele, Kinderschminken und eine Hüpfburg vorbereitet. Die Kameradschaft der Freiwilligen Feuerwehr hofft natürlich auf zahlreiche Besucher und einen wohlgesinnten Wettergott!
---
Gestern rockten wir in Kals!
Vielen Dank dem Kalser Maibaumverein für die perfekte Organisation!!
Alle Fotos findest Du  H I E R auf unserer Homepage, für Facebook klick  H I E R !!!!
---
Heute Abend um  19 Uhr ist der traditionelle Umzug der Berger Partl und danach wird das 20. jahrige Jubiläum gefeiert! Um 21 Uhr wird das Mehrzweckhaus erbeben! Krampuskränzchen der rockigen Art!
Kommt alle zu Party , es wird höllisch, es wird laut und gewaltig!
Bis heute Abend!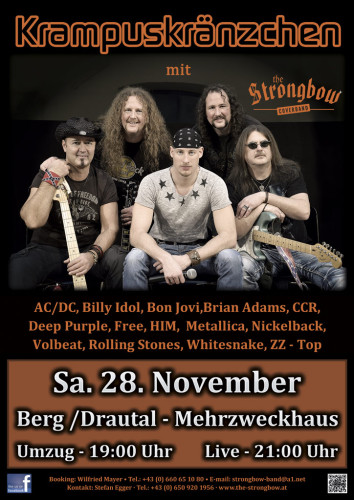 ---